A Rather Charming Invitation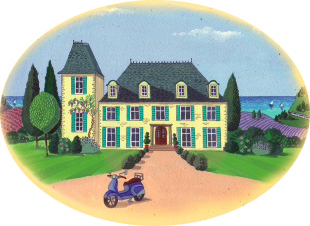 SUMMARY of the novel:

Wedding bells are ringing for Penny and Jeremy—but where will the wedding be? While heiress Penny's newly-discovered French relatives insist that the wedding be held in the South of France, Jeremy's kin won't have it anywhere but England. Either choice might just re-ignite the Hundred Years' War.

Meanwhile, Penny is feeling a tad skittish, not only about all the superficial hoopla that surrounds modern weddings, but also about the impact that marriage itself will have on her treasured relationship with Jeremy. Everyone's telling her it's simply inevitable that the thrill goes out of marriage after a few years. So, with her usual earnestness, Penny acts as a "bridal anthropologist" seeking evidence that it is possible to "tie the knot" without unravelling the love that brought her and Jeremy together in the first place.

Then, in a family château high above the perfume fields of Grasse, Penny's French cousin offers her the loan of an ancient bridal tapestry with a highly intriguing history. Does it contain clues to eternal true love—or is it merely an outdated relic from oppressive past traditions? Penny has barely begun to crack its perplexing imagery before a series of strange events unfold, threatening to derail the wedding. Now Penny and Jeremy must set off on an astonishing romp around Europe to catch a thief—while simultaneously trying to figure out what's best for the future of their love.

From a nostalgic stop at the opulent Train Bleu restaurant and a visit to a mysterious ballerina in Paris, to a masked ball at a multi-billionaire's secret chalet on Lake Geneva, to London's hidden vaults of medieval artifacts, and a winner-take-all gamble in Monte Carlo, Penny and Jeremy embark on another thrilling adventure... and all the while, they can hear the tick-tock of an antique clock as it counts down the very minutes until they say, "I do."

Will they crack this case and still make it to the altar on time? Come see for yourself.

You're invited! Bride or groom's side?